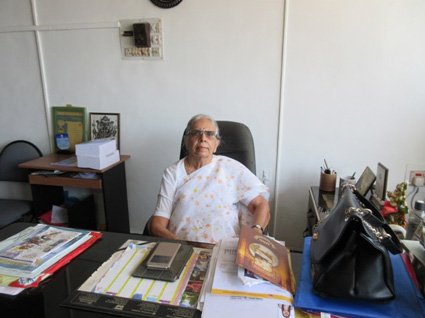 Vidya Vikas Mandal was established on August 1, 1971 by a few enlightened young professionals, who fully appreciated the importance of a good education.At the time, there were no facilities for Commerce education in South Goa, and several students were travelling to North Goa to study for the B.Com degree. Some were even going to Belgaum, Pune and Mumbai. The Mandal started a Commerce College in rented premises at Borda, Margao in 1973.
Today the Society manages fivereputed institutions, viz. Shree Damodar College of Commerce & Economics, R. M. Salgaocar Higher Secondary School, G. R. Kare College of Law, H.M.N. Gaunekar Institute of Management Training and Research and Vidya Vikas Academy. The first IGNOU study centre to be set up in the State of Goa is attached to Shree Damodar College.
Vidya Vikas Mandal has been serving the student community of South Goa for close to 50 years and is recognized everywhere in the State as a charitable Society dedicated to the promotion of education of the highest quality.
In the early years, all the institutions were scattered in different parts of Margao city. Gradually, however, the Mandal created an educational campus and all 5 VVM institutions have now been relocated here. The campus was built on land donated by Shree Damodar Saunsthan, Zambaulim and thereafter on additional land acquired with the help of the Government of Goa. The entire campus, known as Shree Damodar Educational Campus, is home to around 5000 students and 400 teaching and non-teaching staff, providing education from the pre-primary right up to the doctoral stage.
The Mandal has provided all its institutions with good strong infrastructure, and this is constantly growing to meet their ever-increasing needs. VVM has invested heavily in IT, which all institutions are using to the fullest. Academics, sports, NCC, NSS, cultural activities…the campus has it all.
In the 47 years of its existence, Vidya Vikas Mandal has been fortunate to have been led by personalities of competence and vision. Adv. H. M. Naik Gaunekar was the Founder President (1971-75). He was followed by Shri Pandurang Timblo (1975-79), Shri Ramnath G. Kare (1979-2014) and CA Ganesh Daivajna (2014-17). Each President has left an indelible and enduring mark on the institution. The mantle has now passed to me and I am sure that my very capable and enthusiastic team, comprising First Vice-President Shri. Nitin Kunkolienker, Second Vice-President Adv. Pritam Morais, Hon. Secretary Shri Madhukar R. Mallya, Hon. Treasurer CA U. N. Bene, immediate past president CA Ganesh Daivajna and others will help metake Vidya Vikas Mandal to still greater heights of glory.
CA Sheela H N Gaunekar
President