'Education is the most powerful weapon we can use to change the world' – Nelson Mandela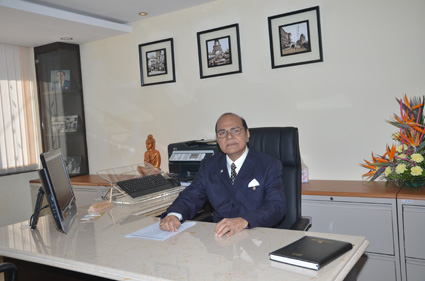 Vidya Vikas Mandal is a unique society established in 1971 by a few spirited and enlightened young professionals. These energetic youngsters who had struggled hard to get themselves educated and who were by then fairly well-established in their professions felt they owed a debt to the community for their accomplishments. They believed that it would be appropriate to repay this debt of gratitude by serving the noble cause of Education. Since there were no facilities for Commerce studies in South Goa, they took the bold step of starting a Commerce College in rented premises at Borda, Margao in 1973. They were simple "Aam Aadmis" who attempted a seemingly impossible task and made it possible.
Today the Society manages several institutions, viz. Shree Damodar College of Commerce & Economics, R. M. Salgaocar Higher Secondary School, H.M.N. Gaunekar Institute of Management Training and Research, G. R. Kare College of Law and Vidya Vikas Academy. There are also IGNOU study centres attached to the two Colleges.
Vidya Vikas Mandal has been dedicatedly serving the student community of South Goa for the last 40 years and is recognized everywhere in Goa as a charitable Society dedicated to the promotion of education of the highest quality.
The Mandal has provided its students with excellent infrastructure, first, on the land donated by Damodar Saunsthan, Zambaulim and thereafter on additional land acquired with the help of the Government of Goa. The entire campus, known as Shree Damodar Educational Campus, is home to more than 5000 students and 400 teaching and non-teaching staff, providing education from KG to PG and beyond.
The founder President was late Adv. H. M. N. Gaunekar ably assisted by Hon. Secretary CA Ganesh Daivajna, Hon. Treasurer CA Sheela Gaunekar, CA U. N. Bene, Shri Anil Counto and others. The mantle passed from him to the late Shri Pandurang Timblo and thereafter to a well-known industrialist Shri. R. G. Kare, under whose dynamic leadership the Mandal grew by leaps and bounds. During his presidency of 33 years, several institutions were added to the VVM family. The undersigned, who was the Founder Secretary and served as Vice-President for all these years, has now taken over as the President. He is ably assisted by First Vice-President Shri. Nitin Kunkolienker, Second Vice-President Adv. Pritam Morais, Hon. Secretary Shri Madhukar R. Mallya, Hon Treasurer CA Sheela Gaunekar, and CA U. N. Bene and others as management team.
It is the earnest desire of the present team to further improve and enrich the quality of education offered by all the VVM institutions, so that each becomes the leader at its level and in its field of education. The old guard in the Mandal has reposed its faith in the younger, new entrants into the Board of Management, trusting that they will dedicate themselves to the task of taking the Mandal to greater heights.
'If you are planning for a year, sow rice
If you are planning for a decade, plant trees
If you are planning for a lifetime, educate people'
– Chinese Proverb
C.A Ganesh Daivajna
President
Vidya Vikas Mandal