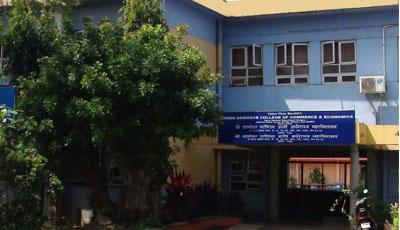 Established in 1973, Vidya Vikas Mandal's Shree Damodar College of Commerce & Economics– the flagship institution of Vidya Vikas Mandal, is recognized all over Goa as a premier institution of higher education. The College has U.G.C. recognition and is permanently affiliated to Goa University.
Located in the Shree Damodar Educational Campus, Comba, Margao, the College is ensconced in a peaceful environment. The river Sal flowing by the campus, the beautiful trees and the well-tended garden have endowed the College campus with natural beauty. The College has spacious classrooms, a richly stocked library, well-equipped computer laboratories, a multipurpose hall for indoor games, and a canteen, which the students and staff put to optimum benefit. The College boasts a complement of highly qualified, experienced and dedicated teaching faculty.
For the first 20 years of its existence, the College offered only the popular B.Com programme, but in more recent times, new programmes have been introduced in response to the changing times and changing demands of the economy. The College pioneered the BCA and BBA (Financial Services) programmes of Goa University and was also among the first set of colleges that were permitted to operate the University's M.Com programme. In 2013, the College reached yet another landmark – 9 students were admitted into the College Research Centres of Commerce & Management to pursue their Ph.D. Damodar College is now a strong player at all levels of higher education in Commerce and related disciplines.